Your Cart
Steak Guides
Steak. Just the word conjures the irresistible aroma of seared beef for meat lovers. In this steak guide you'll learn everything you need to know to choose and prepare the best steak, from perfect filet mignon to cowboy-worthy porterhouse.
A Tradition of Quality
The Kansas City Steak Company started as a Midwestern family-owned business in 1932. From the beginning, we created standards to ensure the company's heritage lived on through generations and our customers received the most delicious steaks possible. Over time, these standards were defined by seven distinct characteristics of quality and value, which became The Kansas City Steak Standards.
Because we recognize that you have many choices when it comes to buying steak, we'll stop at nothing to ensure our offerings and service are the best quality and that we exceed your expectations. From our hometown-Kansas City-straight to your table, you deserve nothing less. Just follow our steak guide for expert cooking tips and more and enjoy the best steak of your life.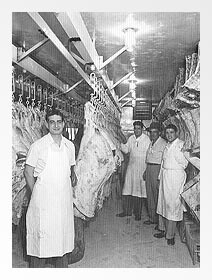 A Shared Belief
In Quality
The Kansas City Steak Company is proud to be part of National Beef Packing Company, an industry leader that has long-standing partnerships with some of the best cattle ranchers in America.
Our distinctly unique relationship with over 2,300 ranchers sets us apart from the competition, and ensures top-quality cattle are raised and managed correctly. Applying our shared beliefs and standards, we work together to bring the best to your table.
The Kansas City Steak
Standards
Source We've sourced the best cattle in the country from producers with known and approved management methods.
Grade Primarily USDA Choice and USDA Prime. These steaks are so good they should be on the honor roll.
Cut Our steaks are hand trimmed and carefully cut to meet our exact specifications and your expectations.
Color Aging steak creates added flavor and tenderness and a richer, darker color than the brighter red often seen at a local grocer.
Texture From tender and finely textured to firm and flavorful, we ensure that each cut has the flavor and texture profile you expect them to deliver.
Aging We wet age our steaks up to 28 days so they're at peak tenderness and have the rich flavors you expect from a quality steak cut.