 Your Cart
SECURE CHECKOUT

VIEW CART

Save 15% on Orders of $129+
Use Code: WEEKEND

Terms and Conditions: 15% savings is site-wide on shipments of $129 or more per address, excluding shipping. Use code WEEKEND in the shopping cart for offer to apply. Offer expires 5/28/2018 at 11:59pm CT. Not valid on gift cards, gift certificates or prior purchases. Cannot be combined with other offers or promotions. The Kansas City Steak Company(R) reserves the right to cancel or modify offer at any time. Other restrictions may apply.
What's the difference between a T-Bone and Porterhouse? Why is our Filet so superior? Where's the real home of the Strip—Kansas City or New York? Discover the answers to all of your steak questions.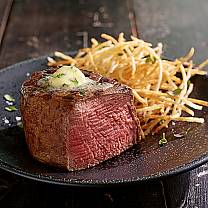 Filet Mignon
The champion of the steak world, Filet Mignon is a thick cut from the tenderloin featuring buttery tenderness and exquisite taste. Ours is hand trimmed, wet aged up to 28 days and flash-frozen to fulfill our flavor-lock promise.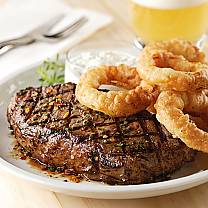 Kansas City Strip
Also known as the New York Strip, this juicy cut comes from the most tender section of beef: the short loin. The thick Kansas City Strip is named for the city where it originated.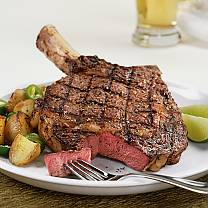 Ribeye
Bone-in or boneless, our robust Ribeye is a true steak lover's favorite. Sliced from aged prime rib, this cut is the perfect combination of tenderness and rich flavor. Superb marbling ensures unbeatable quality.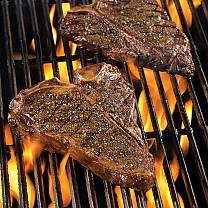 T-Bone
Named for the cut's T-shaped bone, this steak offers two great tastes in one: the juicy Kansas City Strip and the succulent Filet Mignon. The bone adds even more flavor.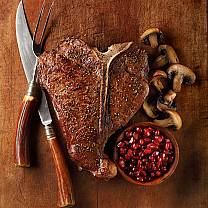 Porterhouse
Like the T-Bone, our meaty Porterhouse offers two steaks in one. This cut has a larger tenderloin Filet than the T-Bone—perfect for hearty appetites.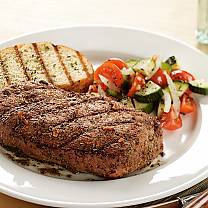 Top Sirloin
Thick and meaty, our Top Sirloin is cut from the center of the sirloin, packing big beef flavor—ideal for grilling.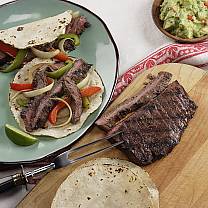 Skirt Steak
Prized for its rich flavor, this cut is easy to prepare and a must-have for fajitas and stir fry.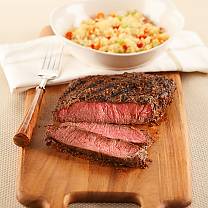 Flat Iron Steak
This top blade steak features flawless marbling—perfect to grill, broil or panfry.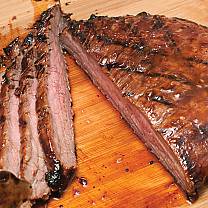 Flank Steak
Use this long and flat cut in a variety of dishes—great for London broil or in fajitas. Grill, pan fry or braise for even more tenderness.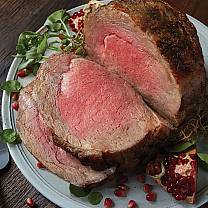 Prime Rib
Our Prime Rib is an exquisite roast cut with the bone and fat removed. Expertly trimmed and netted, it's a crowd pleaser. Cook to medium rare for maximum flavor.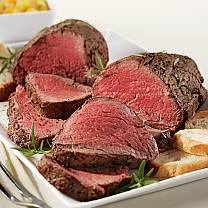 Beef Tenderloin
Also known as the Chateaubriand, this is uncut Filet Mignon in roast form—decadently juicy and positively delicious.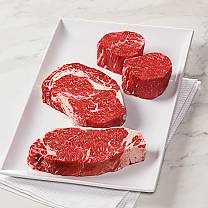 USDA Prime
Only the top 1–2% of beef can be labeled USDA Prime. We call our prime selections Private Stock®—wet aged to maximize flavor and tenderness.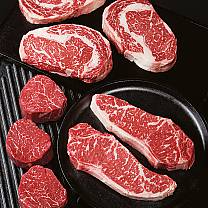 American-Style Kobe
Bred for impeccable marbling and peak flavor, our American-Style Kobe beef comes from the world-famous line of Wagyu cattle in Japan.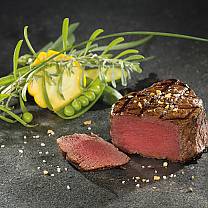 Grass Fed Beef
Our tender 100% Grass Fed Black Angus beef is nutrient dense, high in healthy Omega-3 fatty acids and raised without hormones, antibiotics or artificial ingredients. This leaner cut has the perfect balance of marbling for incredible flavor.