Your Cart
Filet Mignon with Herbed Butter
Cooking Instructions
Preheat gas grill on high heat to approximately 600&deg
Sprinkle both sides of each Filet Mignon with freshly ground sea salt and black pepper.
Prepare the booster sauce by combining the melted butter with the bouillon.
Place steak on preheated grill, reducing heat to medium. Baste frequently with booster sauce. Grill (covered) for approximately 5-10 minutes per side, until steak is heated through. (The desired outcome is a rare to medium rare steak.)
Meanwhile, prepare the herbed butter. Remove the stems from the rosemary and thyme, leaving only the leaves. Mince the rosemary leaves, thyme leaves, and sage until finely chopped. Combine the chopped herbs with the butter and set aside.
When the steaks are cooked, top each with a good-sized blob of herbed butter and serve.
Show More
About Kansas City Steaks Filet Mignon
Since 1932, we have been committed to providing the best steaks available anywhere. The commitment we make to our customers goes far beyond providing the best quality Filet Mignon steaks. We are also dedicated to helping create unforgettable cooking and dining experiences.
Our company is so confident that our perfectly aged Filet Mignon steaks are the best you've ever had that they come with our unconditional guarantee. If you are dissatisfied for any reason whatsoever, you can ask for a refund or replacement, even if you received your steaks as a gift.
You're only one step away from experiencing the best Filet Mignon steaks in the world. Click here to learn more! https://www.kansascitysteaks.com/steaks/filet-mignon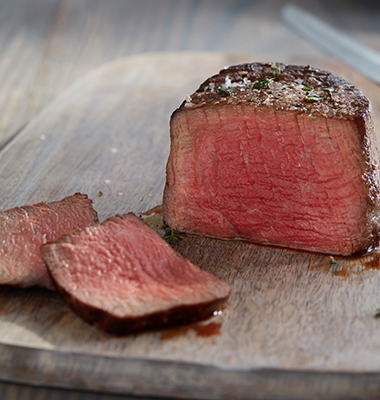 FILET MIGNON
Shop Now
Cooking Extra Thick Filet Mignon
Sometimes our customers worry about how to best cook our top quality, melt in your mouth extra thick Crown Filet Mignon® steaks. If you have ever wondered how some of the world's finest steak restaurants achieve that perfect combination of a flavorful crisp outside with an extremely tender inside, we've got you covered. You'll be surprised how simple we've made the process for you!
Cook our Crown Filet Mignon® like a top chef. Check out our easy to follow steps here: https://www.kansascitysteaks.com/all-about-steaks/cook-and-grill-steaks-and-roasts/the-chefs-technique-for-how-to-cook-extra-thick-crown-filet-mignon
Filet Mignon Cooking Time & Temperature
The key to making the perfect Filet Mignon steak is the balance of both cooking time and temperature. Depending on the way that you will be preparing your filet, the time duration and cooking temperature will vary.
Other factors that will influence the cooking process include thickness of the cut, as well as the degree of desired doneness. When it comes to knowing the exact time and temperature to create your perfect Filet Mignon, we've made it easy! Everything you need to know is here: https://www.kansascitysteaks.com/all-about-steaks/cook-and-grill-steaks-and-roasts/