Your Cart
WHAT IS FILET MIGNON?
Welcome to the Kansas City Steaks Ultimate Filet Mignon Guide. This page is a resource to help answer any questions you may have about one of the most tender, juicy cuts of steak around - the Filet Mignon. Tips, tricks and ideas on how to prepare the most memorable Filets for your next celebration are all available here. Don't forget to visit 31 Days of Filets for special offers.

Tie up your Filet Mignon with some kitchen twine. This will hold it together for
uniform cooking and create a beautiful presentation.
Look for more Expert Tips below.
- WHY THE FILET? -
It's our most popular steak, plain and simple. The Filet Mignon is a thick and extremely tender cut of beef from the tenderloin. Each mouth-watering cut is super-trimmed, perfectly aged up to 28 days and comes from the finest Midwestern corn-fed beef that practically melts in your mouth.
- TYPES OF FILETS -
The Filet comes in many sizes and types, perhaps more than you realize. See below for the many kinds we offer. Most likely, there's a Filet Mignon that 's just right for your next celebration or impressive gift need.

Season your steaks about 15 minutes before you grill them to give the salt a
chance to dissolve on your steak and not on the grill.
Look for more Expert Tips below.
- HOW TO COOK FILET MIGNON -
Cooking the perfect steak is simple when you start with our premium, high-quality Kansas City Steaks, fully defrosted (according to individual product instructions). Then choose one of our recommended cooking methods.
Chefs Technique for Kansas City Steaks crown Filet Mignon
Please take special care when preparing our Crown Filet Mignon steaks. They are thicker than average, and are best enjoyed when cooked according to our own chef's technique.
Heat over to 350°F. Heat heavy, ovenproof nonstick or seasoned cast iron skillet over medium heat until hot.
Sear the steaks on one side, about 2 minutes, then turn steaks and place skillet in 350°F oven.
Cook, uncovered, 17 to 22 minutes for medium-rare doneness. 23 to 28 minutes for medium doneness
Remove from oven when steaks are 10°F below desired doneness (135°F for medium-rare/145°F for medium). Remove from skillet and let stand 10 minutes.
Optional: Make a simple pan sauce or simply deglaze the pan with some beef stock and pour over steaks. Enjoy!
- RECIPES -
A superior Filet can transform an entire meal, and we've got the step-by-step instructions to create gourmet feasts using our Filet Mignon. Find more delicious Filet recipes here.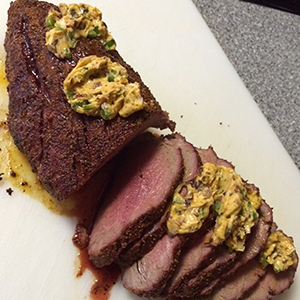 INGREDIENTS
2 pound Kansas City Steak Company Filet Mignon Mignon Roast
2 teaspoons kosher salt
1 teaspoon black pepper
1 teaspoon granulated garlic
1 teaspoon granulated onion
1 teaspoon good quality chili powder
2 tablespoons minced sun dried tomato
2 tablespoons minced jalapeno
2 tablespoons minced red onion
1/4 teaspoon salt
1/4 teaspoon black pepper
1/4 teaspoon good quality chili powder
Zest of 1/2 lime
Source Ray Lampe, Dr. BBQ Submission
DETAILS
At least an hour before you plan to cook make the butter by combining the butter, tomato, jalapeno, onion, salt, pepper, chili powder and lime zest in a medium bowl. Mix well until fully blended. Lay a 12"x12" sheet of wax paper on the counter and spoon the butter in the center of it. Fold the wax paper over the butter and with your hands form it into a log about 6" long. Pull the log towards you squeezing out as much air as possible and evening out the log. Roll the log in the wax paper. Twist the ends in opposite directions until the log is tight and even across. Refrigerate for at least an hour and up to a few days. Let the butter warm at room temp for 10 minutes before using. Take the roast out of the refrigerator 30-45 minutes before you plan to cook. Prepare the grill or over to cook indirect at 450°. Make the rub by combining the salt, pepper, garlic, onion, and chili powder in a small bowl. Mix well. Dry the meat with a paper towel and season liberally on all sides with the rub. Use it all. Let rest until you are ready to cook, 15 to 30 minutes. Place the roast directly on the cooking rack for the grill or on a rack in a shallow pan for the oven. Cook for about 30 minutes to an internal temp of 125° for medium rare. Remove from the grill or oven and let rest for a full 10 minutes to finish cooking. Top with slices of the butter before slicing so it will metl onto the meat. Slice the roast thick or thin depending on your preference and serve with additional slices of the butter sauce and reduce until thickened.
- TIPS & TRICKS -

Prepare your Filets with confidence. These Tips, Tricks and Ideas should help to take
the guesswork out of the equation and raise your cooking game!
Select the right amount. Begin with the end in mind.
The aging process is an important component in creating a full flavored, tender filet.
Steaks at room temperature take seasoning better and will cook faster.
Leave it alone. The more you touch it, the better chance your steak will be ruined.
Want to add flavor to your Filet? Try basting and adding flavor layers of garlic, thyme and butter.
Always carve across the grain of a steak, not with it.
Steaks are juicy and tender when cooked to no more than medium-rare doneness. The USDA recommends steaks and roasts be cooked to 135°F. Be sure to check with a thermometer, as color alone is not a foolproof indicator.
- OUR FILETS MAKE GREAT GIFTS -
Our gourmet-quality steak and other fine foods make any occasion a truly memorable affair. Holidays, birthdays, tailgates, business gatherings, weddings...give everyone another reason to celebrate or say "thank you". Of course, everyone loves our Combos. Whether it's a Meat Combo for the grill, our complete Meal Combos, or our popular Surf and Turf, a combo gift is sure to please.