Your Cart
Kansas City High Steaks Crown Filet Mignon
Cooking Instructions
Heavily season the end pieces of the Filet Mignon. Sear both sides on a very hot cast iron skillet and place into a preheated oven at 450F for 8 to 10 min.
Take two slices of Bacon and cut into cubes. Place into sauce pan and cook until fat has been rendered out. Add 2 tbsp. sugar into the pan until the bacon is crispy and candied.
Peel the skin off of the Cipollini onions and place into a sauté pan with 2 tbsp. butter and Madeira wine. Cook down until the wine has evaporated. Add 2 tbsp. butter and 2 tbsp. sugar until the onions have caramelized.
In a sauté pan add the Gorgonzola and cream. Cook down until it has thickened and has an even consistency.
Assembly:
Ladle Gorgonzola sauce unto a shallow plate.
Place Filet in center of sauce
Top Filet with onions and bacon
Add Rosemary sprig as garnish.
Show More
About Kansas City Steaks Filet Mignon
Since 1932, we have been committed to providing the best steaks available anywhere. The commitment we make to our customers goes far beyond providing the best quality Filet Mignon steaks. We are also dedicated to helping create unforgettable cooking and dining experiences.
Our company is so confident that our perfectly aged Filet Mignon steaks are the best you've ever had that they come with our unconditional guarantee. If you are dissatisfied for any reason whatsoever, you can ask for a refund or replacement, even if you received your steaks as a gift.
You're only one step away from experiencing the best Filet Mignon steaks in the world. Click here to learn more! https://www.kansascitysteaks.com/steaks/filet-mignon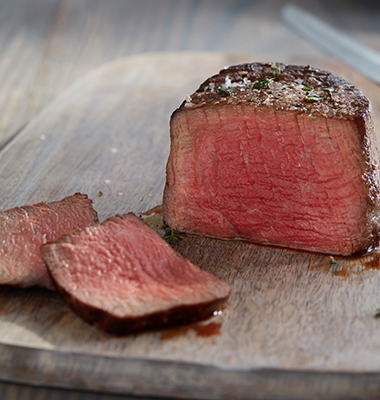 Filet Mignon
Shop Filet Mignon
Cooking Extra Thick Filet Mignon
Sometimes our customers worry about how to best cook our top quality, melt in your mouth extra thick Crown Filet Mignon® steaks. If you have ever wondered how some of the world's finest steak restaurants achieve that perfect combination of a flavorful crisp outside with an extremely tender inside, we've got you covered. You'll be surprised how simple we've made the process for you!
Cook our Crown Filet Mignon® like a top chef. Check out our easy to follow steps here: https://www.kansascitysteaks.com/all-about-steaks/cook-and-grill-steaks-and-roasts/the-chefs-technique-for-how-to-cook-extra-thick-crown-filet-mignon
Filet Mignon Cooking Time & Temperature
The key to making the perfect Filet Mignon steak is the balance of both cooking time and temperature. Depending on the way that you will be preparing your filet, the time duration and cooking temperature will vary.
Other factors that will influence the cooking process include thickness of the cut, as well as the degree of desired doneness. When it comes to knowing the exact time and temperature to create your perfect Filet Mignon, we've made it easy! Everything you need to know is here: https://www.kansascitysteaks.com/all-about-steaks/cook-and-grill-steaks-and-roasts/